The best breakfasts in Nice by district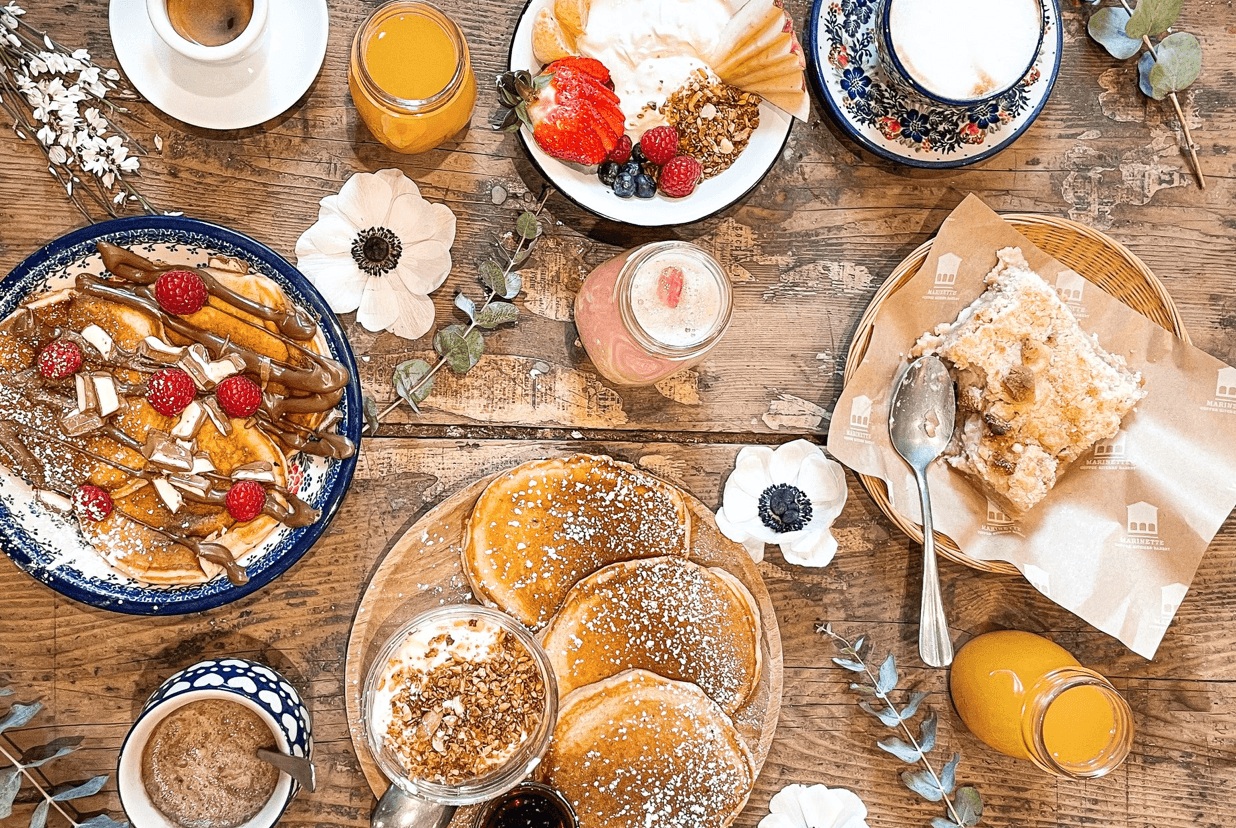 Nice is in season all year round. It's always time to go out for a good breakfast. Here's our selection of places to enjoy a great breakfast or brunch by district !
Hug café - Jean Médecin
Located at the foot of Notre Dame Basilica and our beloved Hôtel du Centre, Hug specialises in the art of coffee. Their expert baristas will advise you and delight your taste buds with their various caffeinated (or non-caffeinated) drinks. And the icing on the cake : they make gorgeous latte-arts! They offer savoury and sweet dishes to suit different dietary restrictions: vegan, vegetarian and gluten-free.
Where? 2 rue de Suisse (0 min from Hôtel du Centre, 10 min from AMMI Nice Lafayette; 11 min from AMMI Nice Masséna)
When? 7.15am-11am
How much ? Breakfast formula at €8 for hotel guests and €9 for non-hotel guests
Marinette Kitchen - Vieux Nice
This is THE place in Vieux Nice you don't want to miss! Marinette is often a victim of its own success, and there's often a queue to get a table: so come early, as reservations are not possible! Since their renovation, they offer tables in a picturesque street in Vieux Nice or upstairs under their veranda. Our favourite : the cookie-minute served with (lots of) whipped cream!
Where? 13 rue Colonna d'Istria (6 mins from AMMI Vieux Nice)
When? 8.30am-11am Wednesday to Sunday (no reservations possible)
How much? €15-20
https://www.restaurantmarinette.fr
Garden Café - Les Fleurs
Enjoy an All-Day-Brunch every day in this friendly café that looks like a botanical garden. The produce is fresh, and the colourful plates scream to be devoured. Our recommendation: the Parisian Brunch with its salted salmon croissant, French toast, and gourmet yoghurt, served with bread and a hot or cold drink.
Where? 37 boulevard Gambetta (7 min from the Hôtel de France)
When? 8am-4pm (no reservation required)
How much? €20-25
https://www.instagram.com/gardencafenice
Bella Bay - Les Galeries Lafayette - Masséna
The Bella Brunch at the Bella Bay restaurant on the top floor of the Galeries Lafayette allows you to dream away while enjoying a superb buffet with a direct view over the Place Masséna. Great food with a fresh and varied buffet, featuring timeless brunch favourites (bacon, scrambled eggs, hot drinks) and Bella Bay's signature wonders, combined with live music (vocals and percussion) from 12.30pm.
Where? 6 Avenue Jean Médecin - Galeries Lafayette - 4th floor (2 min from AMMI Nice Lafayette; 4 min from AMMI Nice Masséna)
When? 11.30am-3pm on Sundays only
How much? €32
https://bella-bay.fr/actualite/moments/bella-brunch/
Café Anna - Port Lympia
This small café, recently opened on the harbourfront, offers a variety of products made with love by chef Anabelle. Savoury or sweet pancakes, pastries, Benedict toast or burrata, there's something for everyone. Treat yourself while enjoying a view of the "pointus", the small traditional fishing boats that are the pride of the harbour, with their bow and stern ending in a "point".
Where? 26 quai Lunel (12 min from AMMI Vieux Nice)
When? 10am-3pm Wednesday to Sunday
How much? Approximately €15
https://cafeanna.fr
Boulangerie Jeannot - Cours Saleya
Jeannot's father, Jean-Baptiste, opened his bakery in Nice in 1925. From the age of 15, Jeannot worked in his parents' bakery to learn the secrets of a good bread, until his parents entrusted the bakery to him personally. To pay tribute to her grandfather and perpetuate the old-fashioned flavours of 'Papi Jeannot' through authentic products and new flavours, Karine, his granddaughter, decided in 2016 to open her eponymous bakery-pastry shop.
What we love most of all is being able to sit on the terrace in the legendary blue chairs!
Where? 8 rue Saint-François-de-Paule (7 min from AMMI Nice Masséna; 8 min from AMMI Nice Lafayette)
When? 7am-8pm, but the breakfast pastries go fast!
How much? €5-10
https://www.boulangeriejeannot.com
If you prefer to have breakfast in bed or right after waking up, know that all our hotels and aparthotels offer a breakfast buffet or room service or an express formula from €7 to €14.90.