Tour de France 2024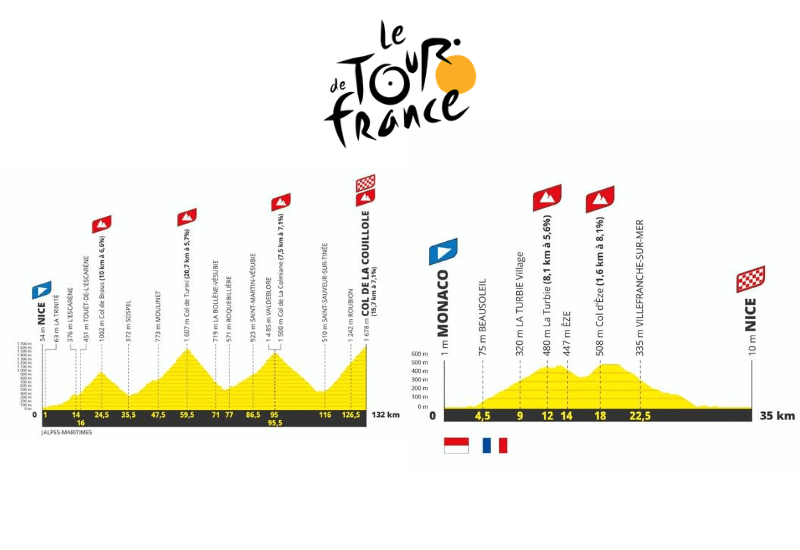 The official route of the Tour de France 2024 has been announced on Wednesday 25 October.
The two final stages of the 2024 Tour de France will pass through Nice, and a third will take place in the Alpes-Maritimes.
The 2024 edition of the Tour de France promises to be exceptional. The Grand Depart will take place in Florence, Italy. Our neighboring country will host the start of the race and the first four stages for the first time since it was founded in 1903.
Similarly, the finish will not be judged in Paris, a first in the history of the Tour. Nice was chosen by Tour de France boss Christian Prudhomme to relocate the event due to the organisation of the Olympic Games in Paris, one week after the end of the Great Loop.
On Saturday 20 July, a road stage will run from Nice to the Col de la Couillole, covering a distance of 132km and a climb of over 4,000m, with four passes (Col de Braus, Col de Turini, Col de La Colmiane and Col de la Couillole).
The following day, Sunday 21 July, the Tour de France will finish in style on the Place Masséna in Nice, after an individual time trial starting from the Port Hercule in Monaco.
Another stage will arrive in the Alpes-Maritimes. It will be on Friday 19 July, and the finishing line will be drawn in the ski resort of Isola 2000.
So whether you're a sportsman chasing the professionals taking part in the competition or a fervent supporter, our great teams will be delighted to welcome you and help you make the most of this event.
All our apart'hotels have kitchenettes so you can prepare your high-protein meals (it takes energy to pedal or to cheer on your favourite riders)!
One of our apart'hotels, AMMI Nice Masséna, has the particularity of having large flats, which makes it easier to store bikes ;)
Get the best prices directly through our website and use our promo code "TDF" to enjoy a 15% discount on our accommodation.
AMMI Hotels Nice, 5 mid-range hotels and aparthotels in the centre of Nice! Get great advice from our AMMI teams :)